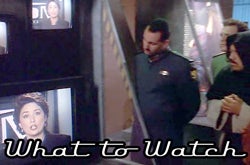 Cancel those Fourth of July plans! This is going to be a totally righteous week of science fiction television. First, there's a new Middleman, featuring those Mexican wrestlers we showed you a while back. And then, giant human-eating rats are going to fight environmentalists, to see who rules science TV. There's a new journey into the heart of horror from Reanimator director Stuart Gordon. You've seen Autobots hazing each other, now you can witness a Decpticon initiation. We finally learn exactly what makes "sex-starved aliens" happy, not to mention where Marina Sirtis has been lately. (Those two things have nothing to do with each other, sorry.) Click through for some juicy television listings.
Tonight
As usual, the week's TV highlight is a new episode of superhero show The Middleman, at its new time of 10 PM on ABC Family. This time around, the Middleman's sidekick Wendy is supposed to learn fighting from Sensei Ping, but he's kidnapped by a band of Mexican Wrestlers - who also get their hands on the Middleman himself. If you like fun, then I highly recommend The Middleman - I had high hopes for the series, but it's actually surpassed them, mostly thanks to Natalie Morales' engaging performance and the incredibly high-density clever scripts. But don't take my word for it, here's what Henry Jenkins has to say. He's a professor, after all:
The scripts for the series, not to mention the comics, are full of one laugh out loud one-liner after another, most of them playing on precise and pithy references to popular culture: I haven't seen a script this dense with injokes since early Joss Whedon... The performances consistently live up to the quality of the script: everyone gets a few memorable lines and moments in the spotlight in the opening episode and I can't wait to see where the characters go from here.
And here's a trailer for the new episode:


Also tonight, Spike is showing Star Wars Episode II: Attack Of The Clones. The six Star Wars films are appearing almost every night on Spike this week, so if you missed their earlier showings, you can stop panicking and start watching the rise and fall of Anakin.
And at 3 AM (!!) the Sci Fi Channel is showing a new (to Americans) episode of dimension-shifting noir show Charlie Jade. Charlie Jade thinks that 01 Boxer, the dimension-jumping psycho, killed Elliott Krogg, who's become the scapegoat for a bombing that killed a lot of people. Meanwhile, back in Charlie's dystopian home dimension, Jasmin is grappling with the fact that a woman of her social rank is not supposed to be self-sufficient, and she has to decide whether to use sexual favors to survive.
At almost the same time Tuesday morning (3:15), Cinemax is showing My Super Ex-Girlfriend, to get you in the mood for Hancock. Marvel at Hollywood's cluelessness, and maybe get a few chuckles out of an airborne Uma Thurman.
Tuesday
The ever-reliable History Channel is serving up yet another dose of paranoia and mega-science, with a new episode of Mega Disasters at 10 PM. It's about "airborne attack," and it may make you want to wear a breathing mask if you live in the city. Here's the description:
Anthrax is the most feared of all the biological weapons-spores entering the body through the lungs are lethal. In 2001, a simple letter, sent through the US mail, paralyzed a nation, when anthrax spores were found inside. Experts predict that anthrax released over a populated area would result in unprecedented loss of life-a few pounds of anthrax released under the right conditions could kill hundreds of thousands of people. Will anthrax be used to create a worldwide disaster?
There's also a rerun of The Universe, focusing on the moon, at 8 PM.
AMC is showing the Don Knotts space comedy, The Reluctant Astronaut, at 3:45. Here's a giant chunk of that movie:


Wednesday
Tonight it's the battle of the science programs! Two different shows are airing at 9 PM - will you watch the respectable, highbrow science of Nova ScienceNow on PBS? Or a new MonsterQuest on History, focusing on "Super Rats"? Well, let's see... Nova ScienceNow includes segments on personal DNA testing, pulling excess carbon out of the atmosphere, which are sort of hot-button topics right now. On the other hand, MonsterQuest has evidence that rats used to be huge - and these massive, cat-sized rats are making a comeback. And they have an appetite for anything... even human flesh!!
Hmmm... serious science. Or cat-sized people-eating rats. What will it be? Does this sample of Nova ScienceNow help?


Another scheduling smackdown: FX is showing I, Robot (the Will Smith movie) at 5:30, and TMC has Starman, the movie about a widow and an alien on the run, at 6:30. Somehow, I'm not guessing that's much of a dilemma, for anyone who gets TMC.
Thursday
Tonight at 10 PM, there's a new episode of horror anthology series Fear Itself: "Eater," directed by Stuart Gordon. (Director of everything from Robot Jox to Reanimator.) In "Eater," a rookie cop has to watch over a serial killer called the "Eater," but her fellow cops start acting weird and she realizes nobody is whom they seem. (This website says "Eater" already appeared June 5, but the TV listings and IMDB both say it's a new episode as of this Thursday.)
The Sci Fi Channel is showing episodes of the classic Twilight Zone all day today and tomorrow. I wonder if they'll show that one with the twist ending? And the aliens?
We've talked a lot about how much we love C.S.A.: Confederate States of America, the alternate history movie about a world where the South won the Civil War. It's a wicked satire, but also a sharp-edged mirror on our real world, because it shows how different its alternate world isn't in many ways. And now you can check it out for yourself, on IFC at 7:45.