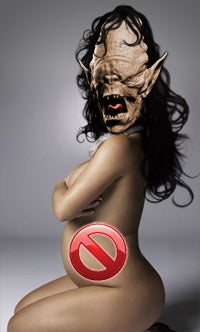 In a universe stocked with sentient robots and faster than light travel, you'd hope that science would have mastered something as mundane as the human reproductive system, yet the fictive cosmos are littered with unplanned pregnancies, bastard children, and all manner of unpleasant critters bursting from one's internal organs. Is any form of contraception safe in world of science fiction? We looked at seven tried and true methods and started to worry that the future we've envisioned is one in which we're all paying child support.
Socially-Mandated Birth Control

How it works: When the world is on the verge of overpopulation and resources are strained, sometimes a government's got to put the breaks on reproduction and restrict baby-making to the desirable few. After all, after thousands of years spent clawing to the top of the Darwinian ladder, we can't have every Tom, Dick, and Beowulf Shaeffer dumping his DNA into the newly limited gene pool. Fortunately, there's a veritable buffet of methods for de-fertilizing the populace. The body-numbing "ethical birth control pills" of Vonnegut's Welcome to the Monkey House make sexual contact utterly uninteresting, while Andrew Neiderman's The Baby Squad opts for the simpler solution of mass sterilization. The women of Sarah Hall's Daughters of the North are fitted with an outwardly visible IUD, and Brave New World does away with childbirth entirely, making pregnancy the pinnacle of personal disaster and arming women with a birth control utility belt that would make Batman proud.