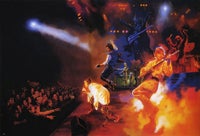 Too busy trying to learn how to bend a bullet? Don't worry io9's got you covered. The following is a collection of some of the best stories of the week.

The Greatest Art Featuring 6 Iconic Scifi Villains

Darth Vader rocks out with the rest of the original Star Wars cast in this awesome painting by Hugh Fleming. Vader has starred in more than his fair share of offbeat and arresting artworks, but he's not alone - other classic science fiction villains have also inspired some provocative and clever art, from graffiti to gallery shows.

8 Rules For Surviving The Apocalypse

Everything I've ever wanted to know, I've learned from scifi movies - especially when it comes to surviving the end of days. Be it a vengeful Mother Nature, plague, monsters, animal packs or the undead, any kind of doomsday , I'll be ready for it.