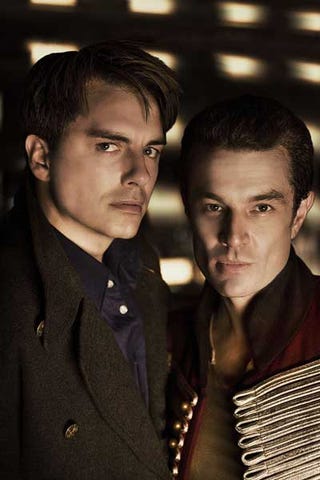 I know it's not really true that you can use mind-control to turn somebody queer and make that person want you, OK? I know that. But sometimes in the happy land of science fiction, you come across a book or movie that makes it seem like the whole frakkin universe has been taken over by a bunch of queer tranny superhero aliens, and that's totally alright. More than alright, even. It's hot. You saw that cylon-on-cylon action in Battlestar Galactica, so you know what I'm talking about. And so, to get you heated up for the last beer-drenched weekend of Queer Pride Month, we bring you a list of science fiction guaranteed to make even the most hetero and cisgender people wonder, just for a nanosecond, "Gee, maybe I should . . . ?"
Battlestar Galactica

Even though Quiznos is the official sponsor of lesbianism on BSG, which is kind of gross, nobody could watch Six and D'Anna in bed with Baltar without wanting to kick old sweaty-pants out and see our two lovely cylons get busy.