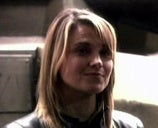 Too busy resigning from DC comics to catch the io9 hotness? Never fear we've collected the best of the week for you below.



Battlestar Galactica Goes Planet of the Apes


Friday's episode of Battlestar Galactica - the last we'll be seeing of the humans-and-cyborgs psychodrama until next year - was called "Revelations." The episode lived up to its name, which was a relief after an entire season holding our breaths waiting for certain dark robo-secrets to come to light.


Superheroes Who Get Laid All The Time

There are plenty of superheroes whose utility belts are covered with notches. From "hairy-chested love god Batman" to the swinging Spider-man to the sensuous She Hulk, the superhero genre offers plenty of playas. Here's our examination of the superheroes for whom action is their reward.