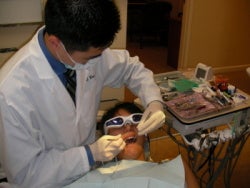 Welcome back to MangoBot, a biweekly column about Asian futurism by TokyoMango blogger Lisa Katayama. While Dr. Wong was putting dental dam in my mouth, I was watching three hot women singing the penis song in a Chinese restaurant downtown. It happened last Thursday, when I discovered a gadget that can warp my brain to a blissful alternate reality. That was the day that I had to visit my own personal dystopia, which happens to involve dentist chairs, root canals, and lots and lots of hellacious oral drilling. Though I took an inevitable trip to this dystopia, I miraculously evaded doomsday by using a device that made me forget the pain without any drugs at all.
There are very few things in the world that I hate. Eating shrimp. Being attacked by pigeons or zombies. And going to the dentist is a big one. I hate the taste of all that nasty chemical shit they put in your mouth. I hate the high-pitched sound of the really thin drill and the shuddering thuds of the thicker one. I hate drooling. Being in a dentist chair is my equivalent of Ludovico-esque torture, except I don't have a criminal record or a movie made about me. For twenty-nine years, I've had to go at least once a year to the dentist because of candy-induced cavities as a kid, and later, because I've had to do all the shitty dental work I had done as a kid redone.
If the receptionist at Dr. Wong's office sensed my fear, she certainly didn't show it. "Hello Lisa," she said. "You are here today for a root canal, post, and crown. You owe us thousands and thousands of dollars. Your torture chamber is the second chair to your left." I handed her my credit card and walked in.
Dr. Wong has a thoughtful office with little touches that attempt to calm the human soul. He has scented candles in the waiting room, raspberry hand sanitizer and lotion in his bathroom, and a gentle, friendly smile. One time, when I drooled all over my right arm, he gave me a warm lavender-infused towel to put next to my bib. Another time, he gave me a pillow for my neck after he noticed me cracking it nervously while he stuck needles in my gums. But all these human niceties really don't do much to assuage my preternatural fear of the screechy drill. I needed something that would take me out of this world.
Earlier that day, my boyfriend had equipped me with a pair of Zeiss Cinemizer glasses and an iPod. "Take these and put them on when the drilling starts," he had said.