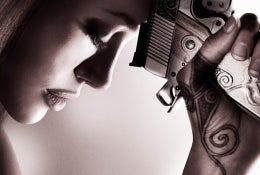 There was a lot of initial fan outrage that Timur Bekmambetov's movie version of Mark Millar's "If supervillains ruled the world" comic Wanted ditches the costumes, superpowers and even plot of its source material. But early reviews of the movie seem to suggest that the comic's biggest selling point - that it's a fun, dumb actioneer with pretentions to depth - still remains, but now has added gun porn, jokes and Matrix effects, to boot.
Over at Comic Book Resources, the official (or so it claims, anyway) first review of the movie starts by letting comic fans know what not to expect from the upcoming Angelina Jolie/James McAvoy movie:
For those familiar with Mark Millar and JG Jones' comic, you're going to see it very accurately reflected for about twenty minutes, before the film then goes on its own wild ride, though with a few snags and bulletholes from the original. It ditched the supervillains, it ditches the "bad guys won," it ditches the celebration of amorality of the lead. But for all the themes and dubious morality it ditches, it grows its own.
This is apparently what happens when the movie writers hadn't read the end of the comic before writing the script. Not that the movie seems to suffer from straying so far from what the faithful would've expected: