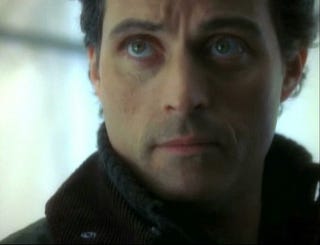 With the anti-science Bush Administration finally groaning to a halt, we may finally be willing to admire scientists. There are three new TV shows with scientist heroes coming this fall, creating a genre that hardly existed until now. We've always had lots of shows about doctors, lawyers and other highly paid professionals, but the science-hero show is a new phenomenon — and it may be more political than the existing genres. Minor spoilers ahead.
Are we finally ready to admire the scientific process the way we do medical diagnostics or forensics? A key feature of the doctor/lawyer/forensic show is the fetishization of jargon, the obsessive examination of evidence and the attention to process. Are we ever going to see television shows stare deeply into the process of scientific experiments, posing hypotheses, and making discoveries in the same way? (In a present-day setting, I mean — not aboard the Starship Enterprise or a far-future Earth.)
I say a TV show about heroic scientists could be more political than doctor or lawyer shows, much less forensics shows, because of the range of hot-button issues they could tackle. Issues ranging from stem-cell research to climate change promise to be hot-button issues in the presidential campaign. And the focus of these debates is often over whether we believe scientists when they talk about global warming, and whether we trust them not to clone a million babies for unethical research. So it's a good thing if we're seeing more admirable scientists on television.
We may be taking the first baby steps towards the heroic-scientist show with a few new shows coming this fall.


First there's Eleventh Hour, which is a remake of a British show that starred Patrick Stewart. In the American version, Rufus Sewell plays a heroic biophysicist named Jacob Hood, who's on call for the FBI to investigate "scientific crises and oddities." (For a while, it seemed like CBS was changing the name of this show to Elemental, but the network seems to have gone back to the British title.) According to the CBS Eleventh Hour site:
His jurisdiction is absolute and Hood is dogged in his pursuit of those who would abuse and misuse scientific discoveries and breakthroughs for their own gain. His passion and crusade is to protect the substance of science from those with nefarious motives. He is called in at the eleventh hour and he represents the last line of defense.
He's helped by his sexy bodyguard Rachel, who beats up unethical scientists for him.
And then there's Fringe, another show featuring the FBI. In this show, FBI agent Olivia Dunham needs to enlist the aid of a mad scientist, Walter Bishop, who's been institutionalized for years. She learns to trust him after she takes part in one of his weird experiments, involving donning electrodes in her underwear.
Judging from what I've heard so far about the pilot, Bishop is unorthodox and maybe a little freaky, but he and his son Peter become Olivia's main helpers. Bishop gets all the best lines in the show's trailer, and all the coolest images involve his electrodes and weird substances.