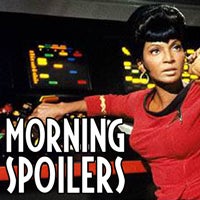 It's a video-heavy edition of Morning Spoilers, including an R-rated Wanted trailer (that gives away a big plot twist), a revealing clip from Friday's Battlestar Galactica, a cute new Hancock clip, and a new Middle Man trailer. And the last dribs and drabs of Incredible Hulk spoilers are still popping up. But we're most excited about news of a long-awaited reunion on Heroes, and tons of new details about Joss Whedon's Dollhouse. The reign of spoilers begins here!
Hancock:
Here's a new clip from Hancock, which just went online. (A few moments of it were in the trailer, but not the part with the car, I guess.) I have to admit I'm warming to this movie a bit. But the immortal-god thing is still a stumbling block for me, I guess. [Comic Book Resources]


The Incredible Hulk:
We've pretty much reached spoiler saturation point on the new Hulk movie — in large part thanks to Marvel releasing half the film as trailers and TV spots — but there are still a few bits and bobs coming out.
Actor Greg Bryk says he plays a member of an elite squad of commandos, who are hand-picked to chase down Bruce Banner. They drop into Brazil and chase Banner through the slums of Rio, across the rooftops, "parkour" style. And it ends very, very badly for these soldiers when Banner turns into the Hulk. [SliceofScifi]
Wanted:
And here's the "redband" (R-rated) trailer for Wanted, which includes more violence and (gasp!) Morgan Freeman saying the "MF" word. It also gives away more plot twists from the film, including a character death. It's also downloadable via iTunes. [Canmag]
Battlestar Galactica:
Here's a new clip from Saturday's Battlestar Galactica episode, "Revelations." Any clue why she's asking for only four Cylons? (Except for the obvious reason that the producers don't want to reveal the fifth yet?) [Gateworld]