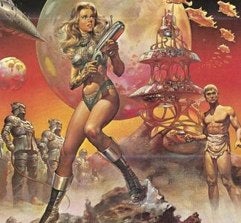 Remember when we were promised a remake of Fahrenheit 451, or a new Barbarella starring Rose McGowan? What happened to those movies? I want to see a futuristic Guy Montag (please cast Christian Bale.) The movies we get most excited about often seem to fall into the black hole of "in development." We've collected a list of some of more interesting announced scifi movies and provided you with the best updates available for each.
Barbarella:

In 2007 Dino De Laurentiis was going to produce with Robert Rodriguez as the director. Rodriguez wanted his lady-love Rose McGowan to star as the sexy space cadet Barbarella. But Universal was not enjoying the casting move and didn't want to front the cash. Could McGowan pull off "sexy nubile blonde" as well as Jane Fonda? This April McGowan spilled that the project was still on (with her in the lead) and that a bunch of pre-production work (including set construction) had already been finished. Rodriguez just has to find a studio willing to put up the $82 million he needs.
Planet Terry:

A middle-aged scifi geek discovers he is actually an alien who has been placed on Earth as part of an intergalactic witness protection program. According to production sources it hasn't been canned yet and is still something that is in development, but couldn't say if director Brian Levant (Problem Child 2) was still attached to the project or not. The story was based on an online comic series by Rob Liefeld that has yet to premiere.
Ender's Game:

As we reported, director Wolfgang Peterson moved on to direct another Chartoff Production and Orson Scott Card is still at work crafting the adaptation of his novel into the screenplay (but the first draft is done). Filming has been pushed back to early 2009. Hurry up — I need to see my super-genius army made up of children battle it out in zero gravity. Oh, and death to all bugs.