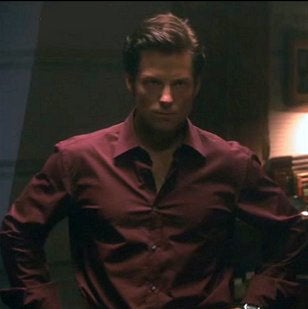 I like a fast-moving plot, but the breakneck speed at which events unfolded and characters did about-faces on Friday's Battlestar Galactica episode was frankly untenable. The human vs. robot drama reached a fever pitch in last week's kickass episode, but this week's story, called "Sine Qua Non," made several obvious mistakes. Familiar characters veered so far outside their usual behavior patterns that the episode felt forced at several points. But it didn't have to be that way. This week I'm going to veer away from our usual recap pattern to go over some of the episode's problem points, and offer a narrative solution that I think would have worked better (and probably pleased audiences more too). Spoilers ahead!
Despite the fact that this episode was full of plot twists that were pretty surprising, the plot itself was fairly straightforward. Last week, if you'll recall, President Roslin and Baltar were whisked away on the wounded cylon Base Star to who knows where. And Sharon/Athena shot the rebel leader Six because she'd had visions that Six would steal her daughter Hera. As this week's episode opened, the wounded Six is being taken to the hospital and Athena is shipped kicking and screaming to the brig. After some gooey medicine scenes, Six dies while seeing visions of green fields that look vaguely heaven-like. And Adama is screaming at Sharon for totally fucking up the alliance with the cylons.
Meanwhile, Lee is dealing with what will happen to the Quorum, the Congress/Parliament of the fleet, now that Roslin has disappeared. Obviously, Vice President Zarek should step up. He was, after all, lawfully elected. And his behind-the-scenes deal-cutting with Lee and the president have shown him to be a canny politician. But here is where the episode encountered its first big problem.
The President Problem

Everybody is worried that Adama "won't accept Zarek" as president, even though it's completely corrupt for the admiral to be able to meddle with the chain of command. And after Lee has a phone conversation with daddy Adama, he's certain that the old man won't work with Zarek. He won't even take Zarek's phone calls. Instead doing what Roslin did, which was step up to the presidency and smack Adama down when he protested, Zarek goes along with Lee's plan to find somebody that Adama will actually work with.
For help, Lee turns to his old frenemy Romo Lampkin, who encouraged him to pursue law and politics but also showed him the dark side of both. Lampkin is the guy who defended Baltar at his trial in exchange for a cabin with a view. So Lee and Lampkin get together for a series of talks about who should basically be crowned president (there's never any talk of an election at all, which is creepy). They make a bunch of lists, and Lampkin keeps saying things about how Lee is very driven and ambitious, which Lee keeps denying. There are a whole series of WTF moments, where you know for sure Lee is going to get the crown but somehow Lee acts like he doesn't know it. C'mon — Lee isn't that stupid. The reason why he's become a politician is that he does have a kind of political savvy and it rings false that he wouldn't discuss the possibility of his candidacy right away with Lampkin.
Let's not even go into the weird crap with Lampkin, who is seeing the ghost of his dead cat and freaking out, and later holds Lee at gunpoint after he realizes that Lee is the only person who can become president. This whole plot arc with Lee's disingenuous "who me? president?" act, and Lampkin's murderous freakout, reek of writerly desperation. Show creators Ron Moore and David Eick have some reason they want Lee to be president, which will probably be really cool later in the show, and they took a clumsy route to get there.