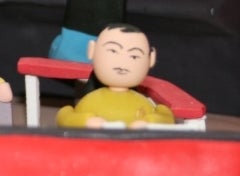 Stuck trying to find your way back to the island all week? Don't worry we've composed a collection of the weeks best stories for your pleasure.
Star Trek Cake Upsets Nerds

Everyone likes cake, right? Especially if the cake is a Star Trek-themed one made by Charm City Cakes. But if that were really true, then what's behind the meltdown from Trek fans once pictures of Charm City's cake were leaked online?



10 Books That Prove Science Fiction Just Got Harder

Why do so many books labeled "hard science fiction" actually contain technology that works pretty much like magic in a fantasy novel? Hard science fiction is supposed to be the branch of SF that's rigorously scientific, and doesn't gloss over difficult problems like faster-than-light travel. We've got a list of ten books that we think are redefining hard SF for the twenty-first century.