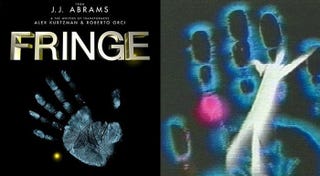 Have you been wondering about those radio ads that prompt you to find "the pattern"? What about the posters wheatpasted in several major cities that feature fake X-ray images of frogs, apples, and a six-fingered handprint (left, reminiscent of the X-Files handprint of yore, right)? Well, I think we've found a pattern for you: it's all part of Fox's not-so-stealthy stealth marketing campaign for Fringe, a new series about a mega-spy and her gang of mad scientists coming this fall from the brain of J.J. Abrams. Part of that stealth marketing campaign also included leaking pristine copies of the series pilot online. We've watched it, and have the scoop on what you can expect. Spoilers ahead.
Lots of Gross, Cool Pseudo-Science
Though our hero Olivia points out in this scene (above) that she's not dealing with "pseudo-science," but rather "fringe science," I think we're mincing words here. Nobody wanted to name the show Pseudo, so they came up with something edgier. I love this list of "sciences" in an "area called fringe science" that Olivia spouts off as she tells soon-to-be-protagonist Joshua "Dawson's Creek" Jackson all about his mad doctor dad and his experiments. It's pretty much a here's-what's-coming sign for the entire show. So get ready for some invisibility, mutation, astral projection, resurrection, etc. This means hours of amusement for people who understand real science (I couldn't stop laughing when Olivia did a search online for "dissolve + flesh"), as well as a renewed sense of purpose for people who have missed the X-Files' spooky blend of government conspiracy and para-scientific bullshit that basically boiled down to REALLY COOL ALIEN STUFF.
In the pilot episode of Fringe, I can guarantee that you will get to see no fewer than three charmingly improbable pieces of "fringe science," one of which involves somebody taking a giant dose of Ketamine mixed with LSD and lying in a sensory deprivation tank. (Hello, Altered States?)