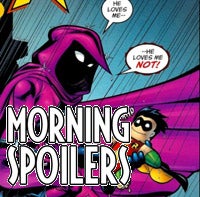 This morning, we're celebrating the return of our previously dead mascot, The Spoiler — a superhero whose only superpower is spoiling other people's plots. She revealed her true identity in yesterday's Robin #174, and we won't give it away here. But yay. To celebrate, we're posting another batch of spoilers from Ron Moore's new virtual-reality-addicted astronauts program Virtuality — including the pilot's big twist ending. Plus there are new photos from City Of Ember and the new Tekken movie. Also, minor spoilers for Get Smart and X-Files 2. And a few tidbits about Doctor Who and Stargate Atlantis, plus some Heroes rumors. We'll keep spreading spoilers in The Spoiler's glorious name.

City of Ember:
Here are a couple of new photos from City Of Ember, October's movie about the creepy girl from Atonement investigating the secrets of her post-apocalyptic underground city. (Which probably don't involve half-naked James McAvoy this time.) Click the link for bigger versions. [Cinemablend]

Virtuality:
Here are a few more spoilers I left out of yesterday's write-up of Ron Moore's new show Virtuality, either because I forgot or because they were too spoilery. Rika, the wife of the ship's therapist/show producer Roger Fallon, works in the ship's "greenhouse" and says plants are better suited to space travel than humans — but the plants start having root problems. Roger allegedly gets a percentage of all the revenues from the ship's "virtual reality" show. Jules Braun has the V.R. program simulate his dead son Shawn, but the simulation isn't rreal enough, until the program takes from Braun's own psychological profile, and then Shawn is a bit of a psycho.