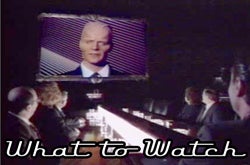 The promo frenzy for Indiana Jones and the Kingdom of the Crystal Skull kicks into high gear this week, with Shia LaBoeuf appearing all over the airwaves to explain his Fonzie-esque character Mutt, plus a new Sci Fi Channel special about the real-life crystal skulls. But if you're not obsessing about Indy and his skulls, there's also the season finale of Smallville, which sees the departure of half the show's cast and creators in a hopefully explosive conclusion. And if that doesn't make you want to jump on your TiVo, then how about Battlestar Galactica's Tricia Helfer playing the Black Cat, Spider-Man's baddest girlfriend?

Tonight
Tonight sees the two-hour season premier of American Gladiators on NBC. This show is set in a bleak future dystopia where a drugged populace watches people compete in brutal events like "Rocketball" and "Vertigo," where survival is the greatest prize. Oh, wait.... never mind. If you like your contests of life and death a little more fictional, AMC is showing Terminator 2 at 8 PM.
Shia LaBoeuf is on Letterman tonight at 11:30ish, talking about Indiana Jones and explaining why he thought it was a great idea to play a "swashbuckling biker" named Mutt.
Tuesday
Shia LaBoeuf continues his TV rampage by appearing on Good Morning America, along with William Shatner.
The History Channel has two episodes of Mega Disasters at 8 and 9 PM, including a new episode, "Mega Tsunamis." Did waves taller than the Statue of Liberty smash the coasts of the Mediterranean sea 8,000 years ago — and could a tsunami like that happen again? Also, at 11 PM, the History Channel has a rerun of Earth's Black Hole, a special about black holes and whether they affect our life here on Earth. The answer, apparently, involves going to the Bermuda Triangle. (Of course it does.)
Also, FX is showing League Of Extraordinary Gentlemen at 5, and Hellboy at 8 and 10:30.
And Wednesday morning at 1:10, TMC has The Man Who Fell To Earth starring David Bowie at his absolute freakiest.
Wednesday
The History Channel comes to our rescue once again, with an episode of Modern Marvels called "Mad Electricity" — it's all about Nikola Tesla, and how we're all using his discoveries constantly today. That's at 8 PM, followed by reruns of MonsterQuest and UFO Hunters.
And at 10 PM, TMC is showing Hollow Man 2, in which Christian Slater plays a cop pursuing an invisible killer. Yeah. I didn't know they made a sequel either.
Thursday
It's the Smallville season finale, "Arctic." This could be the last time you ever see Lex and Clark face off, with the smouldering and the Lex wanting to probe Clark's secrets. After tonight's episode, Lex actor Michael Rosenbaum is leaving the show — possibly never to return — and Lana will only be back for a few episodes. Also possibly gone? Chloe. Oh, and the show's co-creators Miles Millar and Al Gough are also taking off. So even though Smallville is coming back next season, this may as well be the show's final episode because it'll be almost unrecognizable next year. So maybe we'll actually get some resolution of the show's main plot arc? It might be worth tuning in just to find out. In any case, Lex finds Clark's Fortress of Solitude and learns Clark's secrets. Anyway, it's on The CW at 8. Here's a clip:

And then Lost has the first hour of its three-hour season finale, "There's No Place Like Home Pt. 1." The survivors and the freighter people begin their final confrontation. And here's a trailer:

Also, TVLand has the 1999 movie of My Favorite Martian, starring Christopher Lloyd, at 8 PM. And TBS has the original Austin Powers at 9.
Friday
The Sarah Jane Adventures is already zooming towards the end of its first season on Sci Fi, with the second half of "Whatever Happened To Sarah Jane?" airing at 8 and the first half of "The Lost Boy" airing at 8:30. Sarah Jane gets restored to our timeline, but then her cozy little family gets broken up a different way: a family turns up claiming that her adoptive son Luke is their child. Oh, and Maria's dad finds out all about Sarah Jane's world-saving activities, and decides Maria should have no part of it. Here's a clip:

And at 9 PM, Sci Fi has the first half of a Doctor Who two parter, "The Sontaran Strategem." Some people liked this episode a lot better than I did, with the campy dancing and weird Sergey Brin knock-off. In any case, it brings the Doctor and Donna back to present-day Earth for a reunion with Martha Jones and the military organization U.N.I.T. You can read our recap of the episode here.