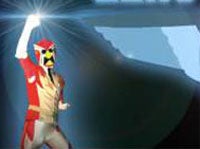 Tired of those giant monsters only attacking the big cities and ignoring the heartland of America? So is one film-maker in Madison, Wisconsin, apparently. Eric Lim brought the world-crushing kaiju action to Greenside City, which looks remarkably like his hometown of Madison, in his new film Zero Trooper-F, which just premiered last month.
The movie's special effects are a throwback to the pre-CGI monster movie days. And the Daily Page adds:
The downtown cityscape of Madison is itself a star, with both the monster and its Zero Trooper combatant stepping over, around, and through many of the newer apartment high-rises sprouting along the periphery of the UW campus.
As long as the monster doesn't trample the macaroni-and-cheese pizza place, we'll be fine. Lim is also working on a full-length sequel called Greenside, a "dark scifi" movie which takes place 50 years in the future, when Zero Troopers are mass produced and there's a giant biodome. [
The Daily Page
]