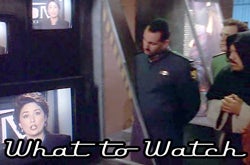 If you had a robot butler scheduling your TV viewing (and maybe showing programs on a Teletubbies-style belly screen) he would have an upbeat lilt in his synth-voice when describing this week's TV options. There are actually some worthwhile items, on days other than Thursday and Friday. For instance, might we suggest mutant ghetto rats and robot apes (not actually appearing in the same show)? Plus, Darth Vader wants to cheat you out of all your money. (Daddy needs a new Death Star!) Oh, and there are new episodes of Lost, Smallville, Doctor Who, Sarah Jane, Ben 10, Transformers, Spider-Man and Battlestar. Listings (with minor spoilers) below.

Tonight
The special two-hour Star Wars episode of Deal Or No Deal airs at 8 PM. According to the official Star Wars blog, it features models dressed in the famous Leia slave-girl outfit from Return Of The Jedi, plus Carrie Fisher herself in the audience. Chewbacca and R2D2 are there to provide moral support to the two Star Wars fans competing for money. Oh, and Darth Vader takes place of the "villainous banker." (Why is the banker villanous? Is this some kind of Bear Sterns reference?)
Tonight's Letterman features Gwyneth Paltrow promoting Iron Man. Expect pithy quotes about how her Pepper Potts is a new type of comic-book-movie heroine. And tomorrow night, Robert Downie Jr. is on Letterman promoting possibly the same movie.
And early Tuesday morning, TMC has Aeon Flux at 1 AM and Encore has the original Robocop at 2:30 AM.
Tuesday
On the History Channel at 9 PM, The Universe gives major spoilers, with an episode that reveals "the future of the universe." Who lives? (Nobody.) Who dies? (Everybody.) Here's the blurb:
The Universe as we know it is condemned to death. Space, matter and even time will one day cease to exist and there's nothing we can do about it. Harsh realities are revealed about the future of our Universe; it may collapse and burn or it might be gripped by a galactic ice age. Either of these scenarios might be a long way off. However, our Universe could suddenly be destroyed by a "random quantum fluctuation", a bubble of destruction that can obliterate the entire cosmos in the blink of an eye. No matter how it ends, life in our Universe is doomed.
And on Wednesday morning at 2:00 AM, BET is showing Hood Rat, about a swarm of super-intelligent mutant rats that go around killing people in a housing project. It's sort of a remake of Willard, except that instead of training them, I think Isaiah Washington's character just sort of befriends them and they turn out to be super-rats. Ice-T is the comic relief in this film. And it features a scene where rats "come out of a toilet to devour a crackhead's anus." This either just got on your must-see, or your must-avoid list, depending on your taste in bizarre horror films.
Wednesday
This has nothing to do with science fiction, except tangentially, but the worst pain from last winter's writers' strike is yet to come. The proof comes in the form of a new reality TV series which premieres tonight on The CW, called Farmer Wants A Wife. It's about a farmer. Who wants a wife. Suddenly Flash Gordon is sounding really great right now.
Speaking of which, Sci Fi is showing another Flash Gordon marathon all day, allowing you to experience the greatness of croptops, hairgel, hawk people and castrating amazons if you missed it the first time.
Also, the History Channel brings us yet another new UFO Hunters at 10 PM, about a UFO sighting at a U.S. military base.
Thursday
Tonight's Smallville is the 150th episode, and it's directed by star Tom Welling. Clark visits an alternate reality, where Buffy never came to Sunnydale Clark never came to Smallville. In this alternate reality, as in all right-thinking universes, Lex is president of the United States. Here's a pretty great scene from the episode, which airs at 8 on The CW (sorry about the sound quality):
And then there's a new Lost at 10 PM on ABC. Jack's doing poorly, and hovers on the brink of nasty death. Meanwhile, Sawyer, Claire, Aaron and Miles try to make their way to the beach, but something goes horribly wrong. We featured two clips from the episode on Friday.