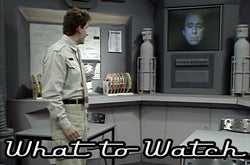 There's actually a lot of great science fiction TV coming up — unfortunately, it's almost all at the end of the week. Doctor Who returns to the Sci Fi Channel, Ben 10 starts a new series with a more grown-up hero, and Smallville comes back from hiatus with an episode that will change everything. (Or at least some things.) There are also new Battlestar, Sarah Jane and Torchwood episodes for American viewers. But what can you do to pass the time until Thursday comes around? We've got you covered, with possibly the most ridiculous time-travel show of all time, plus UFO dogfights. Minor spoilers ahead.

Tonight
Probably the most exciting thing on TV tonight is Minutemen, the Disney Channel's original TV movie that premiered back in January. Somehow, this completely slipped under our radar despite having all the hallmarks of an instant classic. A high-school kid invents a working time machine, so he goes back in time to right wrongs. No, not the Rwandan genocide, silly — the cheerleader falling off a pyramid, and other petty high-school embarrassments. And then it turns out his meddling has created a black hole in the football field. Are you setting your DVR for 8 PM yet? Here's the trailer:
Another exciting movie: AMC is showing The Reluctant Astronaut starring Don Knotts at 10 PM. He has a fear of heights, and somehow gets roped into joining the space program. Dude, it's Don Knotts. It'll rule!
Tonight is also the start of "Ben 10 week" on the Cartoon Network, as commenter Dustin L. points out. (Thanks!) It's all designed to help you get up to speed with the story of Ben, a kid who can transform into 10 superpowered aliens, before his new show Ben 10: Alien Force starts Friday. Tonight is Ben 10: Interactive at 8 PM.