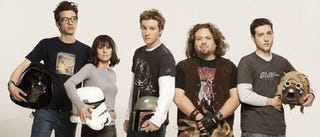 We used to have geek chic, which made emo kids hip and Web 2.0 dweebs rich. But fashions have moved on and now fans are the newly-discovered authentic underdogs in pop culture. Their obscure desires are being converted into ironic commodities, their tastes transformed into sellable goo, and their dark, secret haunts opened up to the light of media frenzy. Here are the seven signs that fans have become glam, and that the world of fandom will never be the same safe place to hide with your action figures again.
Ideas and stories that used to get passed around in dank basements among dudes with thick glasses have become mainstream Hollywood movies. We list the seven signs that fandom is synonymous with glam, and try to discover if there are any shreds of authentic fannishness left in pop culture.
Kristin Bell
This blond bombshell was the star of geek sleuth show Veronica Mars, where her character made Star Wars references, hung out with hackers, and used the word "frak" a lot. Now she plays electricity-wielding Elle on fan glam show Heroes, and will appear in the forthcoming flick Fanboys (pictured above). She's said in interviews that she loves nerd culture and Star Trek. But she's also a cover girl for fashion magazines. The fan world has always had its pinups, but fashion mag cover girls? This is a sure sign of fan glam.
Any authentic geek pinups left? Veronica Belmont, host of many an online geek TV show (currently Tekzilla). She's cute but not glam, wears Star Trek uniforms for fun, and can talk for hours about the latest gadget specs.
J J Abrams
This dashingly dorkish director/producer has got the fan glam look with his nerd glasses and mop of uncombed curly hair. Plus, he's the auteur behind fannish-but-mainstream hit shows Alias and Lost. He reinvigorated the giant monster genre by producing Cloverfield, and now he's single-handedly attempting to reboot the most fannish franchise of all: Star Trek. Everything he's created repackages fantasies ripped from the dark heart of fandom for audiences who would never consider themselves scifi fans. In many ways, Abrams is a shaper of the whole fan glam craze.
Any authentic geek directors left? Joss Whedon, creator of cult hits Buffy the Vampire Slayer and Firefly, has always been a little too fannish to be glam. Hired to write the new Wonder Woman script, he eventually left the project because what he wrote wasn't commercial enough. Now he's making another scifi TV show, Dollhouse, whose premise sounds brilliantly quirky but may again be too strange for audiences seeking glam rather than fandom.