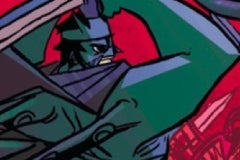 Every now and again you find something with such a wonderful, perfect, title that it throws every other story in the world into sharp relief. "Why," you think to yourself, "does every other story in the world not have a title so ideal to crystalize its content and intent into one small, simple phrase that touches my heart so?" And then you weep the tears of the unfulfilled, knowing that such perfection is so rare. All of which is my way of saying that this week sees the release of a comic called Jesus Hates Zombies. Absolutely nothing more about that particular graphic novel needs to be said, but the rest of this week's comics? Under the jump.
It's another of those strange, uneven, weeks for comic releases with Marvel taking it easy with the exception of a couple of collections worth noting (Marvel Zombies: Dead Days collects the second series of the "What if Marvel's heroes all became zombies and ate each other?" comedy, while What If? Civil War brings together the last few specials of alternate worlds where Iron Man isn't a dick and Spider-Man didn't sell out entirely.)
And DC is launching some particularly uninspiring series in response. I mean, sure, Batman: Death Mask will probably be several shades of awesome and I'm sure there's an audience for the Marv Wolfman nostalgiafest that is Titans (bringing together all of "The New Teen Titans" again for the first time since... Well, Devin Grayson launched a book called Titans about nine years ago), but The Number Of The Beast? Do fans really want to see Warren Ellis and Jim Lee's creative legacies beaten up so badly that they'll buy a third six-issue series about apocalypse visiting DC's Wildstorm imprint in a row?