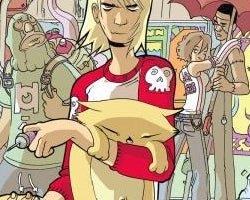 Sure, your cat may be cute and can do that thing with the string, but can she autopsy a corpse or become a periscope for you to look through, on demand? Those are just two of the talents of the supercat in Brandon Graham's graphic novel King City — and that's not the only science fiction pet that can put yours to shame. Click through for our roundup of super-pets who would make Toula, America's official Most Talented Pet growl with envy.
Earthling: Futuristic burglar Joe may be the official star of King City, but it's his pet cat Earthling that steals all of the scenes that he appears in. Joe, having trained years to become a "Cat Master", has the skills and medications to repurpose Earthling into whatever he needs in any given situation - whether it's as a screwdriver, skateboard or just plain cat burglar.
Bandit, Tinker and Pirate: We've gone on about We3 before (and we'll continue to do so until everyone has accepted it as the greatest funny animal comic ever made), but there's no avoiding the fact that these cyborg animals aren't the type to perform stupid pet tricks. With laser-sighted guns and enhanced reflexes, you'd have to be a pretty bad stink boss if you expected them to roll over or play dead.