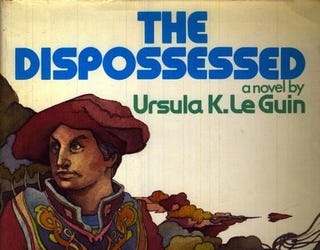 Click to viewSpring equinox will be here in just a few weeks, and there's no better way to get ready for the seasonal change than to dig into some great science fiction books. io9 wants to help you get in the mood for transformation by offering this list of twenty science fiction novels that could change the way you see the world, and maybe even change your life. Whether it's because they've altered the course of science fiction writing, or simply provide a genuinely alien perspective on ordinary life, these are novels that will rearrange how you think. Check out our list below.
These are in chronological order by publication date, not in order of importance.
Frankenstein (1818), by Mary Shelley

This is the first modern mad scientist novel, which set the stage for so many mad scientist tales of the next 200 years. You've got the lab full of bubbly stuff, experiments with lightning, stolen body parts, humans brought back from the dead, monsters, and a man who wants to play god. Just try to name a mad science story that doesn't have a little Frankenstein in it. This book changed your life already by creating an entire subgenre of science fiction devoted to science run amok.
The Time Machine (1895), by H.G. Wells

Another genre-shaping novel, Wells' Time Machine was one of the first stories to link time travel with science rather than magic or spiritualism. Plus his depiction of the underground-dwelling, industrial Morlocks and the willowy, surface-dwelling hippie Eloi shaped the way many people imagined the future for the next several decades.
At the Mountains of Madness (1931), by H.P. Lovecraft

This longish short story by H.P. Lovecraft brings together all of Lovecraft's greatest and most memorable obsessions. When a group of explorers discover a lost Antarctic city, they learn that the Earth was once the home to many alien races, some of whom still lurk under the ocean (Cthulhu's spawn), and others of whom can be summoned (the Shoggoths). Reading this book will take you deep into the subterranean imagination of Lovecraft, full of lost civilizations and slimy monsters who haunt our dreams. Lucky for us, Guillermo Del Toro (Pan's Labyrinth) is working on a movie version.
I, Robot (1955), by Isaac Asimov

This collection of linked short stories quite simply changed the way we think about robots. Asimov invented the "three laws of robotics," which are included in so many subsequent tales of humanoid robots and also in the work of robotics engineers. So this book has already changed your life, by changing robot history — reading it, you'll be surprised how much this work of fiction has become accepted wisdom about the way real robots will function.
The Dispossessed (1974), by Ursula LeGuin

LeGuin pulls no punches in this novel about an anarchist-feminist society that broke away from an oppressive, consumer-driven world to live on its barren moon. Out of this vivid portrait of two flawed societies, and one brilliant physicist, comes a story about how no culture can completely erase injustice.
Kindred (1979), by Octavia Butler

A black woman living in 1970s America finds herself sucked back in time to protect the life of her distant ancestor: a white slaveowner with a perverse crush on one of his slaves. Expect no political correctness, but a lot of tough questions about racial identity, in this seriously action-packed story about how the people you trust least may be the source of your existence.
Wizard (1979), by John Varley

A schizophrenic man falls in love with a centaur who has three sets of genitals and lives inside a giant cyborg in orbit around Saturn. You want to change your perspective on the world? This book will do it for you.
Consider Phlebas (1987), by Iain M. Banks

A good way-in to Iain M. Banks series of Culture novels, Consider Phlebas deals with a war between a posthuman culture of game-loving anarchists, and a hierarchical civilization of religious zealots. Beautifully-written and action-packed, the book never allows you to get complacent about what it means to be ethically right and wrong.