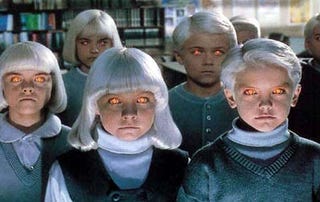 Welcome back to Horrorhead, a column where we explore the intersection of horror and science fiction. Something about the mid-twentieth century got people really spooked about mind control. Maybe it was the Cold War, with all its brainwashy propaganda; maybe it was the prominence of social cleansing pundits like Fredric Wertham, who went on a successful crusade to stamp out "youth destroying" comic books and nearly destroyed the comics industry in the process. Whatever the cause, people started mainlining movies about the horrors of mind control in the 1950s and never stopped.
Some of the early standouts in the horror-scifi genre are Donovan's Brain (1955), about a scientist whose mind is taken over by the brain he's keeping alive in a tank, and The Tingler (1959), about a parasite that lives in everyone's spines and controls their ability to feel fear. The beasts are fine as long as they stay inside you, slowly sucking up all your fear chemicals. But if they get out — they will kill!
Movies like these set the tone for later mind-control flicks, which all seem to contain a certain amount of surreal goofiness. In 1960, Village of the Damned played gave us those iconic blonde, glowing-eyed children who are all born mysteriously after everybody in town conks out for an hour. A cross between pod people and devils, the kids can use their mental powers to control people's actions and of course MUST BE STOPPED.
During the 60s, however, the horror of mind control took a decided turn for the political. The Manchurian Candidate (1962), full of trippy drug sequences, combines the idea of government conspiracy with brainwashing, suggesting that the Cold War is really a battle to control people's wills rather than geographical territory. Those who remember the original flick — way better than the 2004 remake — know that it's the harrowing tale of a soldier brainwashed by commies to become an assassin. (Plus Frank Sinatra joins the fun as another brainwashee.) Or was he brainwashed by somebody else?
In 1987, era of corporate mania, poor Robocop gets mind-controlled by a giant corporation, rather than the government. Company geeks program him with a secret behavioral modification called the "fourth law" which prevents him from doing any violence to employees of the corporation that made him — even when they are breaking the law or threatening somebody's life.
The upcoming Russian flick Inhabited Island, based on a 1970s novel, is another political mind control tale. It's set on a planet that's clearly meant to be the USSR, and everyone is completely obedient because they're being controlled by signals sent from giant towers all over town. (No, they're not cell towers, but you can bet that if the novel had been written in 2008 they would be.)