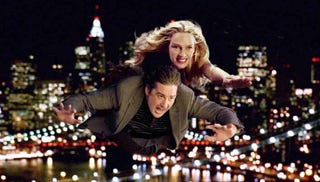 You can tell any kind of story using science fictional ideas, from alien invasion to small personal transformations. But somehow, whenever you mix science fiction and romantic comedy, you create a pungent ooze that eats away at the eyeballs of everybody in the audience. What with it being Valentine's Day and all, here's our tour through the wreckage of science fictional romcoms.
What Women Want. Mel Gibson is an immature ad exec who doesn't understand female consumers and is mean to rising exec Helen Hunt. Until one day, he learns to understand the women's point of view.
Scifi element: Gibson gets struck by lightning while wearing pantyhose, and gains selective telepathy: he can "hear" women's thoughts, but not men's. It's not ever really explained what happened.
Creepy subtext: Gibson steals Hunt's ideas, undermines her, and uses his new awareness of women's feelings to become the ultimate slick marketing weenie.
How bad is it? It's hideously painful and awful. The part where Mel Gibson narrates a Nike ad and everyone swoons made me queasy. Here's the trailer:
Shallow Hal. Jack Black is an immature lout who only values women based on their appearance, until a self-help guru puts a whammy on him to make him see women's inner beauty.
Scifi element: It's really not clear. "Life coach" Tony Robbins has some kind of telepathic abilities in this movie, and he's able to restructure Jack Black's brain significantly. It could just be hypnosis, but seems to go a lot further, since afterwards Hal can see people's "inner beauty." It's almost as if Tony Robbins is a telepath who imbues Jack Black with a mild form of telepathy of his own.
Creepy subtext: Well, Gwyneth Paltrow in a fat suit is sort of hard to take. But also she just "happens" to be the boss' daughter, which makes Hal's attraction to her awfully convenient.
How bad is it? It's pretty terrible, what with the fatsuitage and the whole "Tony Robbins has mental powers" stuff. It's the only unbearable Jack Black movie.
I.Q. Tim Robbins is an immature garage mechanic who falls for Meg Ryan... who's the niece of Albert Einstein (Walter Matthau). Even though Meg is engaged to Stephen Fry from Wooster & Jeeves, Einstein decides to get Tim Robbins together with his niece. This involves lots of Einstein riding on Robbins' motorcycle and screaming "wahooo!"
Scifi element: Well, Einstein's plan to help Robbins and Ryan get together involves inventing a fusion-powered nuclear spaceship and giving Robbins the credit for it. That way, Ryan will realize Robbins really has a good heart. Which makes total sense!
Creepy subtext: It's yet another movie about Meg Ryan being engaged to a smart guy, when you know she should really be with the dumb guy instead. That's, like, Meg Ryan's whole career.
How bad is it? I saw it in the theater (why?!) and had managed to repress it totally until just now. One whole side of my body is now having shooting pains reliving the trauma of watching this movie.
My Super Ex-Girlfriend. Luke Wilson is an immature guy who starts dating Uma Thurman, not realizing she's a superhero and a psycho. He really likes Anna Faris, and when he hooks up with her, Uma goes nutso on him.
Scifi element: Uma Thurman is a superhero, who gets her powers from a chunk of meteorite. And a supervillain played by Eddie Izzard somehow knows that the same meteorite can take away her powers as well.
Creepy subtext: Luke helps Izzard to remove Uma's superpowers, even though this will allow Izzard to take over the world and stuff. Because there's nothing more important than getting your ex off your back.
How bad is it? It has a Rotten Tomatoes score of like -1,000.
My Stepmother Is An Alien. Dan Akroyd is an immature scientist who falls in love with a woman and marries her in like two hours, not realizing Kim Basinger is really from another planet! But she may have to leave him and go back to her planet. Can true love triumph? And what about Alyson Hannigan and Seth Green? Will those kids ever get together?
Scifi element: Akroyd somehow zaps another galaxy with his super space telescope. Don't ask me how. And Basinger's mission is to get him to zap her galaxy again, before some ill-explained disaster happens.
Creepy subtext: In her quest to be the perfect wife, Basinger learns about sex from her purse, and then cooks a few dozen dinners at once for Akroyd and his daughter, Hannigan.
How bad is it? It's definitely one of the lower rungs on Akroyd's climbdown into the scary dark place of his career. Not quite Blues Brothers 2000, but close. Here's a clip: