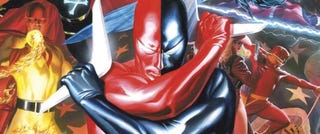 Let the New York Daily News claim that this week in comics is all about the replacement for the dead Captain America. Sure, watching Bucky Barnes go from teen sidekick in WWII to cyborg assassin in the Cold War to new Sentinel of Liberty may be an enjoyable pastime. But for those of us in the know, there's only one comic book that's a must have this week, and it ain't that one. To find out what it is, join me after the jump.


More than five years after Brian K. Vaughan and Pia Guerra killed off all the males of every species — with a couple of particular exceptions (Yes, I'm avoiding obvious spoilers) — Y: The Last Man #60 arrives on Wednesday to close out the series once and for all, and in the process let everyone know just what happens to the last man on Earth and his pet monkey. Expect poignancy, comedy and more than likely, a headfuck or two along the way in this extra-sized finale. And if you don't have a clue what I'm talking about, then you owe it to yourself to start reading here and keep working your way through the series.

Let's see... What is worth looking out for that isn't the rebirth of a comic book icon or the death of a beloved series? Well, as I said yesterday, Star Wars: Knights Of The Old Republic #25 is definitely worth your time, launching the Lucasfest crossover "Vector" on an unsuspecting Galaxy Far, Far Away. Or maybe you'd prefer that Dark Horse got your money for their Predator Omnibus Volume 1, giving you more stories about dreadlocked murderous aliens than you could ever want in one place.

Meanwhile, DC Comics isn't letting the death of Heath Ledger stop them from putting out a collection of Joker stories called Batman: The Man Who Laughs. This volume brings together a handful of fun stories written by the Man Who Killed Captain America (And Then Brought Him Back), Ed Brubaker. And Marvel offers you the chance to get in on the ground floor of their big alien invasion storyline "Secret Invasion" with a collection of the miniseries that's key to the plot, New Avengers: Illuminati.