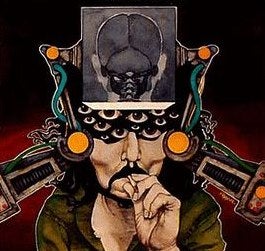 We're ready to come clean about the fact that we went a little Cloverfield-crazy last week. We explained that the movie is about 9/11 as much as it is about monsters; and then we talked to Cloverfield director Matt Reeves about Gojira and the strange whispers at the end of his movie. We also gave you a definitive list of the ten best New York monsters (OK, one is from New Jersey), and showed you a clip from North Korea's greatest monster movie.

Everybody got their knickers in a bunch when io9 columnist Geoff Manaugh talked about how to make a monster movie for the Red States. We also discussed whether autonomous combat robots would be held accountable for war crimes in the future. Then we really got people riled up when we suggested that Joseph Campbell's "hero's journey" sucks as a narrative device, and gave you a chart showing how many scifi stories are enslaved to Campbellian cliches.

But we soothed you by offering some suggestions for 10 scifi songs you can take to a barren asteroid, and telling you about the 10 hottest sex robots in scifi.

The Sarah Connor Chronicles may have impressed us a bit too much. We interviewed Summer Glau, who plays the new Terminator cyborg, and then we told you the show is way, way better than Bionic Woman ever was, but we also criticized it for wimpifying Sarah Connor (we've got clips from the unaired pilot that show definitively that her character was softened up). And we suggested that the show make itself more like the Sopranos.

We showed you pictures of a train-sized drill munching its way through a massive wall of concrete to build a subway tunnel; images of a future where nature is so unnatural that it has become an amusement park; concept art from upcoming dimensions-collide MMO "The Day" where giant robots repair the Arc de Triomphe in a kind of impressionistpunk moment; let you glimpse a beautiful silvery alien preparing for her wedding night; and passed along some snapshots of strange, spaceship-grade aluminum houses in Canada.