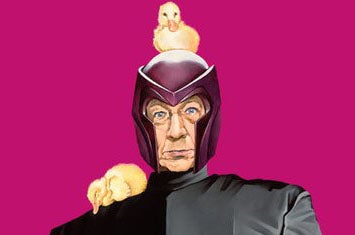 On io9 last week, we explained the five marks of Clinton-Era science fiction, identified five potential alternate histories of New York City that nobody has written a scifi novel about yet, gave you a NSFW peek at the greatest scifi porn of all time, debated which are the best zombies of science fiction, and told you to go out and read a new English translation of Osamu Tezuka's manga Apollo right now.

We talked to science fiction writer Charles Stross about sex and prisons, and to Ken MacLeod, author of The Execution Channel, about why science fiction writers are obsessed with the near future.

Cloverfield designer Martin Whist told us about the movie's "stark realism". Canadian SF writer and filmmaker Jim Munroe stopped by to tell us about one science fiction novel that changed political rhetoric forever.

We asked you to ogle a picture of a house made of 110 tons of steel, 3D pictures of your brain powered by a console game chipset, 90 images of Stan Lee comic book characters remixed by artists, a gallery of monsters by artist Eliza Gauger, who also designed io9's beautiful logo, and a bunch of photos of the scary-shiny Iron Man suit shown at CES (plus closeups of the cool actuators in his arms and legs).

And to entertain you with short, yummy bits of video, we brought you the mad sexology experiments of The Curious Dr. Humpp, and the amazing laser fight between David "the Hoff" Hasselhoff and a robot in the brilliant 1980s stinker Star Crash, a mashup trailer showing that all adventure movies look the same, and James Bond's greatest space battle (with lasers that go "pew pew pew!") from Moonraker.