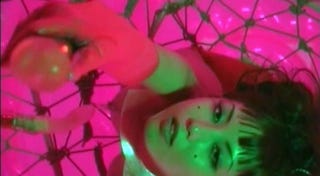 Reiko is a pleasure bot, designed to go out and collect sexual experiences for her corporate masters to sell as virtual reality recordings, in the cyber-porn movie I.K.U. She goes to sex raves and transforms from android to human form. Or she hangs out in a glowing pink web, spangled with dildos. Some of the coolest robots in science fiction are designed only for carnal pleasure. We have a roundup, with sexy but work-safe images and one clip, after the jump.
Malice@Doll. (2000) Maybe the only philosophical tentacle porn anime movie ever. All the humans are dead, just like in that Conchords song, and the humanoid robots still go about their tasks. Malice@Doll is a sex robot, who wanders the streets looking in vain for human customers. One day, she follows a vision of a girl who seems to be human, and winds up getting captured by a tentacle monster, which penetrates her. A lot. And then she becomes human. She finds that her kiss can turn other robots organic too, but eventually discovers that some of the results are grotesque and horrifying. Sadly, it's not a very sexy movie, but Malice is sorta cute. Here's a still:
Cherry 2000 (1987). She's the ultimate sex droid — as long as you don't get her wet. Businessman Sam Treadwell ignores this important lesson and short-circuits his sexbot. So he has to hire E. Johnson (Melanie Griffith), a tracker, to get a replacement memory chip for her. As he travels with E., Treadwell learns (bah) that flesh-and-blood lovers are better than robo-babes.