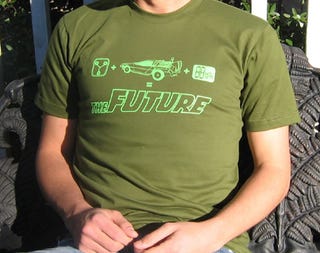 If you want to wear fandom on your sleeve without going all Star Wars t-shirt on us, then you might want to pick something a little more subdued and cerebral. But still, you know, dorky. If you want to come out about your science fiction love to the world, there are a few cool indie t-shirt designers out there to help.
Snorg Tees prides themselves on being a pop-culture t-shirt powerhouse, but they only have three sci fi shirt designs in the midst. Thankfully, they're all sublime, ranging from the brand-new outer space sex design, to the fate of poor Pluto, and my personal favorite, the Back to the Future rebus


Threadless is an extremely cool "voice of the masses" t-shirt shop where people submit designs, and you vote on 'em to decide if they should be made into shirts. Since it's all submitted designs and not licensed properties, you'll get truly original stuff like The Voyage of the Space Chrysalises, Rocketbird, The League Of Cliche Evil Super-Villains, and I know we said no Star Wars, but this Dark Side of the Garden shirt with a topiary-cutting Vader is inspired.


Seibei has some of the stranger shirts we've seen out there, like this Strange Invaders one. However, if zombies turn out to be caused by a human-created supervirus, and not just some living dead hoohah, then you can pick up this Intramural Zombie Hunter shirt, complete with bloodstains.


NerdyShirts is actually much more geeky than nerdy. They have some great shirts like this Optimus Prime one that is loads better than the recent movie was, an elect Bruce Campbell in 2008 shirt (complete with chainsaw), an extremely wacky Spidermanmobile, and everyone's favorite Japanese nerdy guy, Hiro.


80stees specializes in vintage-looking shirts featuring everything from Knight Rider '82, to a Better, Faster, Stronger Six Million Dollar man shirt. You can even get the Greatest American Hero's costume here, if you're looking for a new outfit. Instructions not included.


Palmercash has a lot of offbeat shirts, like Nixon in '78 and the like, but if you do some searching you'll find everything from this vintage-cut ladies Pixelbot t-shirt, to a day-glo Space Invaders piece of work. They're a bit pricy for t-shirts, but I brought my brother one for Christmas, and he loves the damn thing.


Neighborhoodies will let you design your own everything, from hoodies, to t-shirts, to boxers. They have a few ready made shirts, including this Planet Express number from Futurama, but you should feel free to let your imagination run wild. Beware, it's entirely addictive once you get started.


Cafe Press has an entire science fiction category on their site, but they are frequently hit or miss. They run from the sub-par to the subdued. Plus, since the fans are running the asylum, you'll see an overload of Firefly and Star Trek stuff. Not that there's anything wrong with that, we just like a little variety on our body.