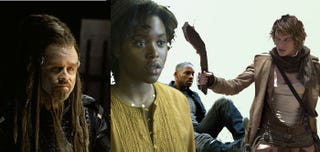 Lately, it seems like we see civilization crushed into rubble every other week. In the past year or so, we had 28 Weeks Later, I Am Legend, Resident Evil: Extinction, Sunshine, Children of Men, and Nightmare City 2035. Back in 2000, the only ruined-Earth film was Battlefield Earth. Why the sudden rise? It's not because we want to be scared, it's because we find post-apocalyptic movies reassuring.
It's best to think of post-apocalyptic movies as "survival movies." There's never been a post-apocalyptic film where the global nightmare killed every single human — unless it was some 1960s avant-garde experiment showing an empty wasteland for two hours. The point of post-apocalyptic movies is that people do survive, even if they have to endure horrible things in the process.
In I Am Legend, we spend a lot of time admiring how well Will Smith has preserved normal life, including stir fried veggies and DVDs. Just like Heston's swinging pad in Omega Man, Smith's living space looks comfy, even luxurious. When I talked to I Am Legend production designer David Lazan, he mentioned that his goal with Will Smith's house was to make it look as much like a normal Washington Square townhouse as possible — until the shutters come down at night.