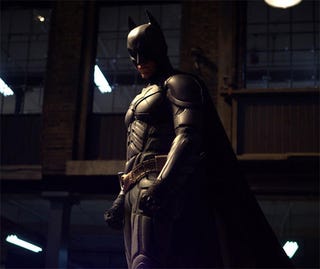 Some movies radiate their awesomeness backwards in time as well as forwards. You practically have memories of enjoying films that haven't come out yet, the anticipation is so great. Other movies are so horrible, the pain travels back in time and becomes your childhood trauma. Here are the 2008 movies that are already thrilling and horrifying us:

Movies we're looking forward to:
The Signal (Feb. 22). A weird signal takes over TVs, radios and cell phones, and makes everybody lose their shit. The tagline is "Do you have the crazy?" and it's become our new standard greeting. The buzz about this horror/SF hybrid from Sundance was pretty exciting. Divided into three segments, with three different directors, the stories of people driven berzerk by mass communications include killing sprees and demented sex. In the neopolis of Terminus City.
Outlander (early 2008). Okay. Alien versus Vikings. If that doesn't thrill you, your heart is made of dung. In a nutshell, Jim Caviezel (Passion of the Christ) is an alien whose spaceship crashes in ancient Norway. He soon realizes the crash had another survivor, a rampaging monster called the Moorwen. So Caviezel has to convince the feuding Viking clans to work together to destroy the best. It's like Beowulf, with space guns.
The Incredible Hulk (June 13). Ang Lee has lowered our expectations to the point where any Hulk movie that doesn't feature mutant poodles will thrill us. But it also sounds as though this version will stick to monster-movie basics. The Hulk's daddy issues will be in the background where they belong. And Edward Norton gives good man-with-monster-inside, judging from American History X.
The Dark Knight (July 18). Batman Begins wasn't perfect (Ra's Al Ghul was a boring villain) but it did have the right pulpy feel. And Knight could be the rare sequel that improves on the original, thanks to Heath Ledger's angry-nerd Joker. The viral Gotham Times site, with details on the crime war, overcrowded mental institutions and families fleeing Gotham, makes us feel director Christopher Nolan's Gotham is a real place, not just a fantasy backdrop.
CJ7 (Jan. 31). Stephen Chow is veering into science fiction after a string of kung-fu hits. This story of a semi-homeless guy who scavenges a toy for his son (played by a girl) will probably drip with sentimentality, but it also looks inventive and crazy as hell. The junkyard toy turns out to be an alien dog, which could kick Wall-E's ass in a cuteness contest. And then the boy/girl gets transported into space, and (judging from the trailer) things get kind of trippy.