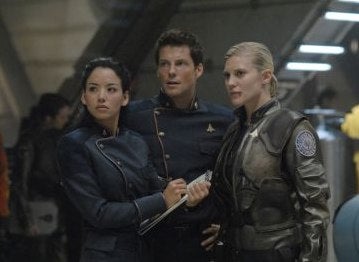 We've seen a lot of futuristic visions this past year, but sometimes even the coolest ones aren't exactly "best." I mean, the greenified New York City in I Am Legend looked great, but who would want to be the guy in that future? For our list of best futures, we've picked tomorrows that are sometimes perilous but always give us the "I want to be there" zoom. Our picks come from science fiction as well as in evolutionary biology and even city planning. Plus, there's some sex. Who doesn't want a sexy future?
Best Futures of 2007


The Yiddish Policemen's Union, by Michael Chabon
This alternate history novel isn't exactly about the future: it explores what our present-day lives would be like if an obscure 1940s Congressional bill to turn Alaska into a Jewish state had been passed into law. The book takes place in a world where Israel as we know it doesn't exist, and Jewish Alaska is about to be re-absorbed into the United States, sort of Hong Kong-into-China style. Chabon's given us a terrific thought experiment, beautifully realized. The Yiddish Policemen's Union uses fantasy to invite you to reexamine your assumptions about everything, which is what the very best science fiction always does.
The European Union's Emissions Reduction Plan
At the recent U.N. Climate Change Conference in Bali, the E.U. once again reiterated its plan to reduce toxic emissions throughout Europe 25 to 40 percent by 2020 and 50 percent or more by 2050.