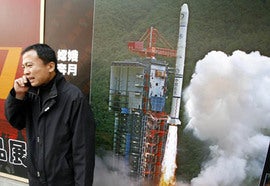 In May, China launched a satellite for Nigeria, the first time another country paid the Chinese to put a commercial satellite in orbit. And in late October, China launched the Chang'e lunar orbiter, named after a Chinese goddess who flew to the moon. The Chang'e will orbit the moon for a year, sending back images and data on the Moon's surface. China's seeking more private investment in its space program. And India isn't far behind.
Maybe the competition will force the U.S. to improve its science education, hopes Washington state business leader Don Brunell:
Americans may need a national emergency, like the launch of Sputnik, to wake us up. Perhaps the Asian space programs will be the catalyst.