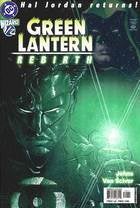 Famous names: Hal Jordan, dude! Okay then, writer Geoff Johns and artist Ethan Van Sciver, both of whom became household names in nerd households after this series was done.
Crunchy goodness: 4
Spinoffs/Sequels/Copycats: Successful enough to launch a monthly Green Lantern title, as well as the companion Green Lantern Corps monthly, this storyline had a direct sequel in this year's crossover "The Sinestro Corps War," described by Johns as "Empire Strikes Back to Rebirth's Star Wars."
Elevator pitch: It's Lord of the Rings in space as written by Dr. Phil and directed by Michael Bay.
Life lesson: "If a giant glowing yellow insect asks if it can live inside you and kill all your friends, make sure that you've got some Grecian formula handy."