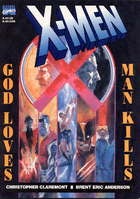 Famous names: Marvel's Chris Claremont took advantage of the then-new creative freedoms afforded by the graphic novel format to indulge his self-righteousness, with Astro City's Brent Anderson doing his best to illustrate it.
Crunchy goodness: 3
Spinoffs/Sequels/Copycats: The basis of the second X-Movie - along with the second volume of Ultimate X-Men and the Wolverine solo story "Weapon X" - this story was given a truly unfortunate sequel around the release of the film version wherein the plot of the original was rehashed with more violence and even less point.
Life lesson: If God loves and Man kills... Shouldn't we all try and be a bit more like God, and a bit less like Man...? Think about it for a second.
Most painfully dated moment: Watch out for the moment where the Village People apparently have fallen on times so hard that they've been reduced to street thugs trying to mug poor Kitty Pryde.