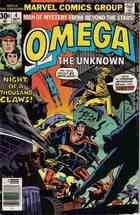 Famous names: Gerber also created Howard the Duck, and subsequently sued Marvel Comics for ownership of the character. He lost, and maybe residual bitterness may be why he was so vocal in protest about the announcement that novelist and critic Jonathan Lethem is writing a revival of Omega.
Crunchy goodness: 3
Spinoffs/Sequels/Copycats: With the series cancelled before Gerber and Skrenes had had a chance to finish the story, it fell to another writer, Steven Grant, to try and bring the threads to a conclusion in another series, The Defenders. Pretend it doesn't exist.
Elevator pitch: Imagine Superman, but devoid of any personality or dialogue, and pair him with Kevin Arnold from The Wonder Years, as portrayed by a junior Leonard Nimoy. It's gold, I tell you.
Life lesson: If your parents seem to be leaking oil at any point during the day, you may want to get that looked into.

Jonathan Lethem Enters The Unknown With "Omega" article at Comic Book Resources