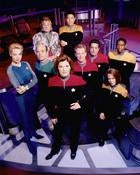 Famous names: Produced and co-created by Rick Berman, who rescued Star Trek: The Next Generation from painful, Roddenberry mediocrity; while Voyager was mediocre more often than not, even its worst episode was better than most of the clunkers fromThe Next Generation's first season.
Crunchy goodness: 3
Spinoffs/Sequels/Copycats: The next series, Star Trek: Enterprise, took the basic premise of a ship on its own and added more potty jokes and a male captain who manages to say "ass" in almost every episode.
Stunt casting: After Cronenberg vet Genevive Bujold didn't work as the captain (see the extras disc on the Season One Voyager DVD set for fascinating outtakes), the producers cast ex-Mrs. Columbo and Remo Williams girlfriend Kate Mulgrew.
Design breakthrough: The intentional use of Art Deco motifs on the bridge and other sets meant that even if the episode sucked, there was still eye candy, 'cuz Art Deco rules.