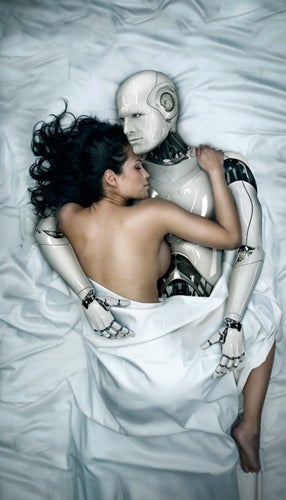 A British researcher who studies artificial intelligence just completed his doctoral thesis on why humans will marry robots in the future. Media reports have covered this with a titter, but researcher David Levy is dead serious. His thesis grows in part out of research he did for a 2005 book called Robots Unlimited, where he writes:
If someone said that falling in love with a Jew, a Black, a Catholic, a Puerto-Rican, an Italian, or a member of any other other minority group, showed that there is something wrong with your love life, you would quite justifiably regard him as a bigot. So why discriminate against machines? Can machines not have emotions and can they not induce emotions in humans?
He goes on to argue that very soon robots will become so human in appearance, and so sociable in their behavior, that people will have sex with them, befriend them, and even marry them. I still have a basic question, though. Aren't robots by definition easier to program than humans? And wouldn't that mean I could reprogram my robot husband to want to have threesomes with other guys? Holy crap I love the future.
Image by V2
.
University of Maastricht announcement of Levy's thesis defense