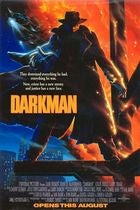 Famous Names: Sam Raimi (Director); Liam Neeson, Frances McDormand, Larry Drake.
Crunchy Goodness: 3
Bang for Your Buck: Neeson's carnival-induced freak-out, where the sight of a stuffed pink elephant kicks off a 3-D zoom-tour through his short-circuiting brain.
Most Painfully Dated Moment: Larry Drake's crimelord tortures people with ... his cigar cutter. Tres, tres early-'90s.
Sequels: The Neeson-free Darkman II: The Return of Durant and Darkman III: Die, Darkman, Die.