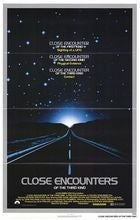 Famous Names: Steven Spielberg (Director); Richard Dreyfuss, Terri Garr, Francois Truffaut (Cast).
Crunchy Goodness: 5
Bang for Your Buck: The special effects may not be modern-CGI, but Spielberg's team still deliver astonishing visuals — especially in the eye-popping, mind-blowing final sequence.
Stunt Casting: Director Francis Truffaut plays ... an international UFO expert?
Elevator Pitch: "It's an alien-invasion movie ... but made by hippies and potheads!"