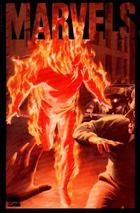 Famous names: Kurt Busiek, Alex Ross
Crunchy goodness: 5
Elevator pitch: It's like Piers Plowman meets Galactus and the Green Goblin!
The shit: Busiek's technique of focusing on a street-level view of grand operatic happenings got its start in Marvels, and was at its most finely honed.
Life lesson: Superhero angst actually looks more impressive from a distance. And heroes look better when you're looking up at them — unless Hercules is wearing his leather skirt again.