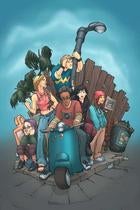 Famous names: Brian K. Vaughn, Joss Whedon, Adrian Alphona
Crunchy goodness: 5
Stunt creator: Joss "Firefly" Whedon took over writing the comic for an arc which saw the kids traveling back in time to 1907 — and discovering some alarming parallels with their own era.
Life lesson: Adults aren't all evil — just mostly. And the ones who aren't evil are almost all asswipes.
Sexism antidote: For once, a comic with a majority-female cast who aren't wearing lingerie and fetishwear to show off their stripperesque bodies.