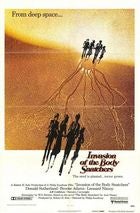 Famous names: Brooke Adams Veronica Cartwright Jeff Goldblum Leonard Nimoy Donald Sutherland
Crunchy goodness: 3.5
Spinoffs/Sequels/Copycats: Body Snatchers (1993), Invasion (2007). One can only assume that The Invasion Snatchers is in the works.
Sights you'll never unsee: Pulsating embryonic Donald Sutherland pod complete with porn star mustache and 'fro. Obese man wearing a tiny, tiny towel receiving full body mud rubdown from Veronica Cartwright. Leonard Nimoy and Jeff Goldblum coming dangerously close to a full on sissy slap fight.
Life lesson: Organic farming is part of an alien mind-control conspiracy, just like Rush Limbaugh and Bill O'Reilly have always said.
Deadliest spoiler: The pods win.

MonsterHunter Film Review: Invasion of the Body Snatchers (1978)