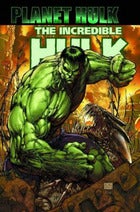 Famous names: Greg Pak, Carlo Pagulayan, Aaron Lopresti, Gary Frank
Crunchy goodness: 5
Sequels: World War Hulk, in which the Hulk comes back to Earth with an alien army and vengeance in mind.
Elevator pitch: It's just like Spartacus — except this time nobody has to ask which one he is.
The shit: Pak and his collaborators put in major overtime on the world-building, creating an incredibly complex society with tons of alien races, not to mention the rampaging robotic wildebots. But what really makes Planet Hulk unforgettable is the Hulk's insect sidekick Miek, who evolves from scared larva to giant bug king to grief-stricken widower. Most comic book characters don't get that much development in twenty years.