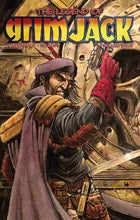 Famous names: John Ostrander, Timothy Truman, Tom Mandrake
Crunchy goodness: 5
Most painfully dated moments: Grimjack's sidekick Blackjacmac is a throwback to the era when when every black character had to have "black" in his/her name. And the racist jabs another supporting character aims at Blackjacmac get old really quick. (Oddly enough, Blackjacmac is the most well-rounded and sympathetic character in the whole series.) Also, the "shocking" transsexual storyline in Vol. 7 no longer looks as cutting-edge as it may once have.
Spinoffs/Sequels/Copycats: Ostrander revived Grimjack for a 2006 miniseries, Killer Instinct. And he's doing a new series of Grimjack Web comics at Comicmix.com
Stunt casting: The Teenage Mutant Ninja Turtles guest-star in Grimjack #26, the only issue of the series that's a collector's item.
Please steal this idea: Grimjack's giddy free-wheeling approach to genre, with space-opera rubbing elbows with noir and fantasy, has found few imitators.