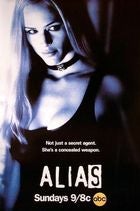 Famous names: Jennifer Garner, Ron Rifkin, Victor Garber, Michael Vartan, J.J. Abrams
Crunchy goodness: 3
Spinoffs/Sequels/Copycats: The Alias video game, released by Acclaim in 2004, features the voices of Garner and other stars of the show. Says UGO.com: "Alias is a poor action-stealth title that is nothing but a guilty pleasure for fans of the series. "
Elevator pitch: She's like James Bond with breasts, a blue wig — and huge daddy issues.
Deadliest spoiler: Sydney and Michael (her former CIA handler) have a daughter — who scores high on the spy-aptitude tests, thus ensuring her future in the same business as her parents, her grandparents, her cousins, and her cousins' orthodontists.