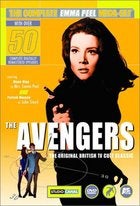 Famous names: Patrick Macnee, Diana Rigg, Honor Blackman, Ian Hendry, Linda Thorson, Sydney Newman
Crunchy goodness: 3
Most wonderfully dated moments: The sixties fashions, the jazzy music, the charmingly innocent sauciness between John Steed and Emma Peel. It's retro heaven.
Spinoffs/Sequels/Copycats: The New Avengers, featuring Macnee teamed upwith Joanna Lumley and Gareth Hunt. And a 1998 movie, starring Ralph Fiennes and Uma Thurman, which captured all of the cheesiness and none of the fun of the original series.
Design breakthrough: In contrast to Macnee's slightly ironic English gentleman drag, Rigg always wore a collection of skintight catsuits and go-go dresses. Honor Blackman cashed in on her character's trend-setting fetish outfits by recording a duet with Macnee called "Kinky Boots," which was a top 5 hit on the British pop charts in 1964, and charted again in 1990.