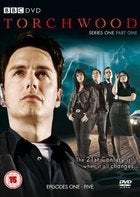 Famous names: John Barrowman, Russell T. Davies, Eve Myles, Burn Gorman
Crunchy goodness: 2
Sights you'll never unsee: Carolyn Chikezie as the "cyberwoman," stalking around in a discofied half-naked version of a Cyberman costume from Doctor Who before getting killed. Runner-up: the scene where Ianto, the cyberwoman's bereaved boyfriend, seduces her murderer Captain Jack, using only a stopwatch and some very odd innuendo.
Life lesson: It's okay to shoot your boss and unleash a time-storm on the human race, if there's even a remote chance of bringing back your long-lost girlfriend.
Most painfully dated moment: The swooping cityscape views and hero-on-rooftop shots looked awesome... on Angel. In general, the show often seems to be straining mightily to drag British science fiction into the 1990s... only seven years too late.