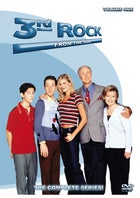 Famous names: John Lithgow, Kristen Johnson, French Stewart, Joseph Gordon-Levitt, Jane Curtin, Bonnie Turner, Terry Turner
Crunchy goodness: 4
Elevator pitch: It's like Mork times four — and one of them is a badass chick!
Life lesson: It's frighteningly easy for an alien like Dick (Lithgow) to fit in in academia.
Stunt casting: Curtin as Dick's colleague and eventual love interest. As the main non-alien character on the show, she brings a lot of comic timing and, weirdly, great dignity.