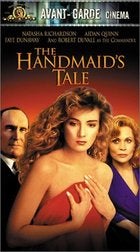 Famous names: Aidan Quinn, Robert Duvall, Natasha Richardson, Volder Schlondorff, Faye Dunaway
Crunchy goodness: 4
Sight you'll never unsee: The antisex sex scene between Robert Duvall, Natasha Richardson, and Faye Dunaway.
The shit: This is a genuinely smart, disturbing movie about how the United States is essentially one disaster away from turning into a militaristic, Christian Patriarchy.
Copycats: The link between apocalypse and infertility is a common one. Children of Men imagines a future world where infertility begets fascism, and underground hit Hell Comes to Frogtown depicts a post-nuclear war world where men with live sperm are held captive by roving bands of baby-hungry ladies.